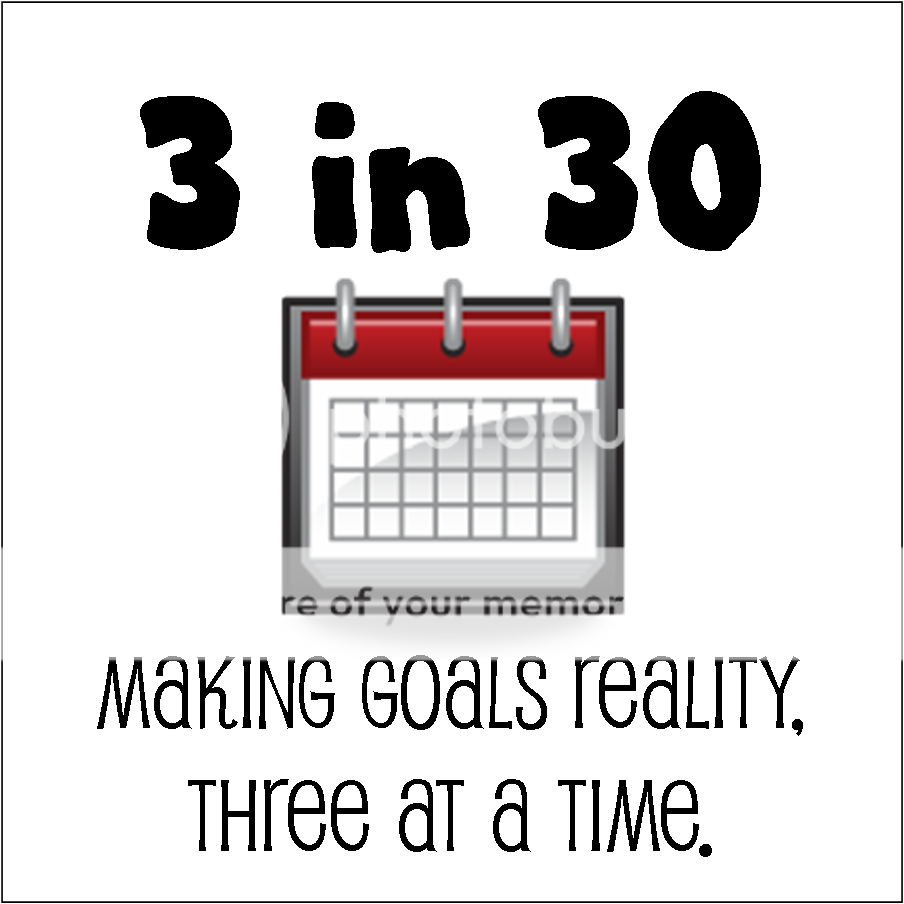 It has been a great beginning to my 3 in 30 goal...setting and accomplishing...challenge!
I finished just as strong with my goals as I began and couldn't be happier that I am going into February with my chin up and 3 accomplished goals under my belt.
As I was helping the boys with their room yesterday, doing the umpteenth load of laundry of the week, doing dishes, planning meals...the daily tasks seemed endless. Seems everytime I turn around there's something amiss somewhere I had just been moments before. I sigh, make a choice to ignore it or repeat the task of staightening out the clutter, and thank God for those making these tasks worthwhile.
For me the 3 in 30 goals are different than daily tasks. My 3 in 30 goals are mine. They are things that will not get done without my hand. Nor will they get "messy" by someone else's hand. My success or failure is at my own doing. I feel encouragment in this. I get to do something for me, so that I will be better at serving those around me. Sometimes I have to take a moment and take care of myself so that I am better equipped to help and be there for others and their needs.
How could cleaning out closets be good for me?
Having the closets organized freed up my mind to think about other people and things. It relieved me of stress associated with opening up the closet doors. I smile now when those doors open and the shelves are smiling back at me. I like this.
Getting to the Y for exercise did more for me than just help me get in better shape...it gave me time to think. A time to reflect and look ahead. Most of the time it also gave me a few moments for worship as I listened to my MP3 player full of songs to lift my eyes to the One who saved me. It wore me out, but at the same time, refreshed me from the inside out.
Purposefully using my spiritual gifts challenged me to get out of my routine and look for specific ways to put them into action. It made me think about what gifts I have been given and why God might have given them to me. It made me thankful that God thought of me to give me said gifts.
Looking ahead to February's goals, I have so many in mind, it's been hard to choose just three. Those at the top of my list:
1) Drink more water and continue getting to the Y 3x's a week.
2) Get together with a friend "just because" at least once a week.
3) Finally get all the photos in my photo box in an album...in chronological order or not, just getting them in a book will do.
Here's to a new month with new goals!